Already making your list and checking it twice for the holidays? Who on the list deserves a stoner gift basket this year? There's no other way to say it—weed gifts make the best gifts.
Whether dear ole' pop needs some more of that THC-infused cream or your best good bud has been hinting that his stash is getting low, make sure they have a jolly holiday with a basket full of dispensary goodies. As you decide who's been naughty and nice and what to buy for the weed connoisseur in your life, we've got you covered.
Check out the best weed gifts in Maine, Vermont, and Massachusetts to make sure that the cannabis gift basket you pull together will be remembered for every holiday hereafter.

What Should You Put in a Cannabis Gift Basket?
Building a gift basket for stoners can be tons of fun. You could choose to pick up only products that you already know they prefer. For example, you could fill a basket with several of the best weed edibles or a variety of eighths of different strains.
Or, you could take a more comprehensive approach and throw in a little bit of everything—edibles, pre-rolls, vapes, flower, concentrates, and even a few THC drinks. Either way, rounding out the basket with a few accessories like a new grinder, some rolling papers, and a lighter will also be a nice touch. Do you really want your basket to be extra? Add a few pieces of Silver Therapeutics swag to the mix!
The Best Weed Gifts in Massachusetts
Are you filling a cannabis gift basket in the Bay State? Rest assured, Silver Therapeutics has got you covered. Creating a gift basket with product picks from our Palmer or Williamstown dispensary is an easy feat.
Pick from all the best flower in the state, such as strains from Simply Herb, Solar Cannabis Co, and more, and build a bouquet of eighths any weed-lover is sure to appreciate. Don't forget, we usually have a nice selection of $25 eighths if you're shopping on a budget. Grab a pack or two of pre-rolls in strains like Alpine Strawberry and Berkshire Gold from Fernway. Drop in a tin or a few single-serve packs of 1906 Drops, and drop in a gram of cured or live resin for some icing on the cake.
The Best Weed Gifts in Maine
Stop by either our Berwick or Portland dispensaries and you'll have no trouble creating a gift basket that dreams are made of for the holidays. Not only do we have a collection of $25 eighths in Maine to build the perfect weed bouquet for your basket, but we've also got all the other goodies, too. As a bonus, if you're shopping in ME, you have access to all the awesome Silver Therapeutics branded products, such as our in-house strains like Honey Nut, Cotton Candy Cookies, and Mendo Breath.
Pick up a few of the best vape pens and carts in Maine, such as carts from Leune or our own Silver Therapeutics collection. Drop in a few THC drinks from Squier's, or some Fudge Brownie Bites or Chocolate Chip Cookies from Medible Delights.
The Best Weed Gifts in Vermont
If you're in Vermont, Silver Therapeutics in Bennington has all the weed gifts you could ask for on the menu. From the best THC gummies and chocolate in the state to tinctures and therapeutic products, you'll find everything you need.
Pick up a few batches of smalls (popcorn buds) and some pre-packaged flower from brands like Satori and Demeters Dank Delights. Don't forget to tuck a few pre-rolls into your stoner gift basket from brands like The Flying Cactus and Green Mountain High Growers. If you're shopping for someone who loves using topical cannabis products, grab a bottle of CBD Face Serum or CBD Balm from Elmore Mountain Therapeutics.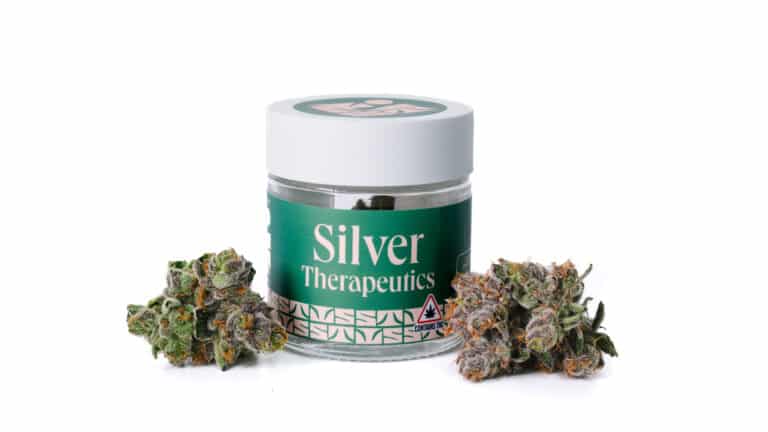 Find All the Best Cannabis Gifts at Silver Therapeutics
When weed is involved, the holidays somehow get even more merry and bright. And we can't wait to help every one of our customers get the must-haves on their shopping lists. Our dispensaries partner with the best brands and growers in New England to give our customers one of the most refined selections around. If you're in the process of making plans for your cannabis gift basket, be sure to track down the Silver Therapeutics dispensary in your state, check out the online menu, and make your selections.
Copyright © 2023 Silver Therapeutics. All rights reserved.
Site by CannaPlanners