Prefer to vape your weed? Whether you're looking for the best vape pen brands Maine has to offer or the best vape carts Maine can deliver, rest assured, you have many options. Since recreational weed became legal in the state a few years ago, cannabis vapes in ME have become a go-to choice at local dispensaries. Top brands like Sweet Dirt, Leune, and East Coast Cannabis line dispensary shelves. Question is, what are the best vapes in Maine overall? We've pulled together the top choices to help you narrow your options on your next dispensary visit.
Shop Berwick | Shop Portland | Shop South Portland
Best Vape Pens in Maine
The Botanist Super Lemon Haze Disposable
Super Lemon Haze is an award-winning strain, so it is no surprise that vapes made from this strain get the highest regard. The Botanist's Super Lemon Haze disposable serves up all that creative energy and euphoria you would expect from the strain. Even better, this Sativa-dubbed vape pen is a favorite because it delivers almost 80% THC.
Refine Triple Chocolate Chip Loud Resin Disposable
Refine uses a signature extract in its vapes that is referred to as "Loud Resin." To gain this unique attribute, the resin in each cart is top-notch when it comes to flavor, aromatics, and effects. Triple Chocolate Chip is a tempting sweet Refine disposable option that yields an impressive 72% THC. And, just like any good chocolate chip cookie, you're left all happy and relaxed.
Leune Desert Gold Disposable
Leune claims you can transport yourself right to a tropical place with a Desert Gold disposable. With over 80% THC and a Sativa lean, we know this to be true. This happens to be one of the most popular vape pens in ME at the moment. The sweet collaboration of mango and peach and high potency no doubt has something to do with that fact.
Theory Wellness Headband Disposable
Theory Wellness is known as one of the best vape brands Maine has available because they offer strain-specific, full-spectrum vapes that are super close to the strain itself. The Headband disposable from Theory clocks in at 67% THC, and as a Sativa strain, you get a nice uplift with just a few puffs. The insane lemon-meets-diesel flavor comes from the genetics of Headband: none other than Sour Diesel and OG Kush.
Shop Berwick | Shop Portland | Shop South Portland
Best Vape Cartridges Maine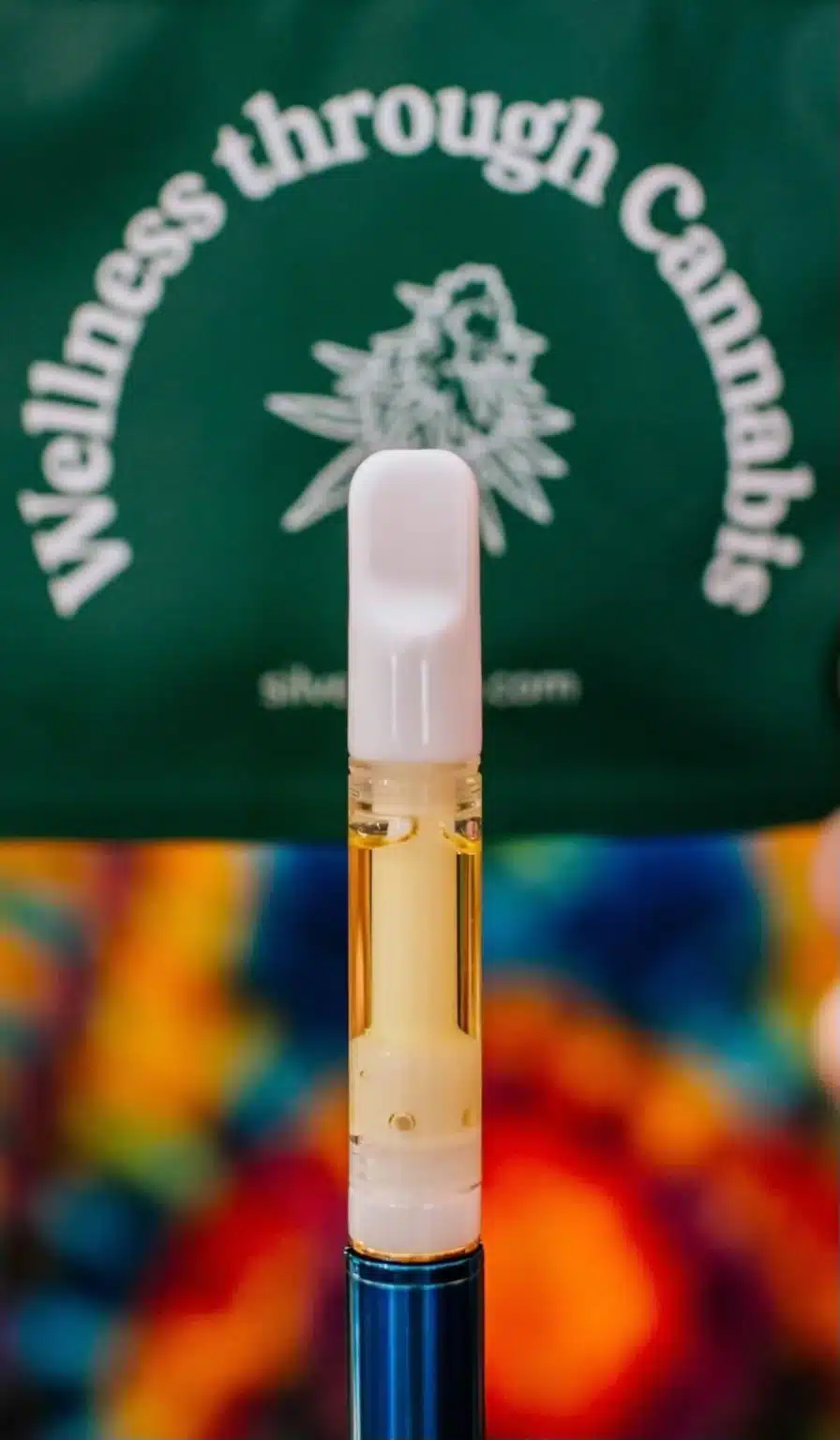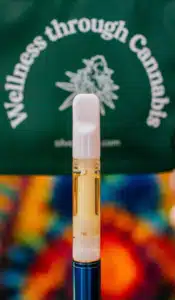 Silver Therapeutics Fruity Pebbles
One of the first Silver carts to hit the stores in Maine, Fruity Pebbles is a hybrid marijuana strain bred by Alien Genetics. This sweet hybrid takes genetics from Green Ribbon, Granddaddy Purple, and Tahoe Alien to create a tropical, berry flavor reminiscent of the cereal. The euphoric effects of Fruity Pebbles will keep you happy when you're stressed and help you catch some sleep when faced with insomnia. Sit back, relax, and pour yourself a bowl of Fruity Pebbles!
Jar Silver Kush Live Resin Pax Pod
Delivering a total head high with an endless stream of hard-to-fight-off giggles, Silver Kush is a go-to "happy" strain. The Silver Kush Pax Pod from Jar is just as satisfyingly euphoric. People love this particular cart option because the live resin extract Jar supplies is incredibly flavorful much like the strain itself. This is also one of the best vape carts ME has to offer because it yields a good mid-range potency at around 68% THC.
Sweet Dirt Dosi Kush Cleaner Live Resin Cart
Sweet Dirt never disappoints when it comes to consistency with its vape carts. Dosi Kush Cleaner is a live resin vape cart with an Indica lean bound to leave you blissed out and sleepy. The THC potency with this particular cart comes in at about 68%, and the flavor profile is nothing short of tongue-teasing.
Leune Pina Dream 3:1 Cartridge
If you prefer a more therapeutic cannabis vaping experience, Pina Dream from Leune is a top pick. Made with a three-to-one ratio of THC to CBD, Pina Dream is about 60% THC and 20% CBD. What you get is a smooth and pineapple-flavored vape that lulls you into a relaxed and happy state of mind without intense intoxication.
Northeast Concentrates White Widow Resin Cart
Any cannabis enthusiast will probably give you a story about a White Widow experience. So it really is no surprise that vapes made from this strain's extract are always a preferred choice. Northeast Concentrates White Widow resin carts offer just over 72% THC, and true to the strain, you get this balanced high that's hard not to love.
Best High THC Vapes Maine Has to Offer
The Botanist Rainbow Belts Disposable
Brought to life after crossing Zkittlez with Moonbow, Rainbow Belts is one of those up-and-coming strains bound to make its mark. This particular pick from The Botanist is now one of the strongest vape pens Maine has to offer at nearly 80% THC. Great for insomnia and pain, this vape pen comes on strong but in such a way that you're left feeling totally happy that it does just that.
Leune Sole Berry Disposable
Pair strawberry and rhubarb, and you get this delicious flavor that slips across your tongue with a little zing. The Leune Sol Berry cart is big on flavor and potency at over 78% THC. This hybrid experience is just enough energizing and just enough relaxing, but everyone says the vape instantly makes you feel at ease with everything life has to offer.
Refine Mango Mints Loud Resin Cartridge
Another loud resin pick from Refine, Mango Mints is bound to come up if you're looking for high THC vape pens Maine. This flavorful, potent pick gives you over 81% total active cannabinoids. The strain itself is a unique phenotype of the well-known Jack Herer strain, which means an energetic uplift and undeniably happy disposition.
Cannabis Cured Papaya Cartridge
Papaya is an Indica-dominant strain with a heavy hand, which makes it a go-to for things like easing muscle spasms and helping with pain. The Papaya cart from Cannabis Cured brings forth the best elements of the strain—it's all spicy sweetness with a thick fruitiness that lingers on your tongue. And, at 80% THC, this is indeed one of the strongest vapes Maine customers can find.
Catch the Best Vapes Maine Has Available at Silver Therapeutics
When it comes to the best cannabis carts and disposable vape pens in Maine, you can count on Silver Therapeutics for the top choices. Ready to try some of the top-rated carts and vapes from this list? Be sure to check out our menu for Berwick, South Portland, and Portland, ME.
Copyright © 2023 Silver Therapeutics. All rights reserved.
Site by CannaPlanners