While the price of cannabis in Maine has started to stabilize, let's face it, good weed doesn't always come cheap. However, the best dispensaries in Maine work really hard to make sure their customers have access to top-shelf strains at a good price. That's why Silver Therapeutics is proud to offer $25 eighths in Maine. Find out where you can find 25 dollar eighths in Maine, what kind of picks you can expect, and more below.
Where to Find 25 Dollar Eighths in Maine
Silver Therapeutics has $25 eighths for sale in Maine at all three of our dispensaries, including our:
You can check out our dispensary menus online to see what flower picks we have available or stop by, and we'll be glad to point you in the right direction.
What Kind of $25 Eighths in Maine Can You Buy?
The availability of $25 eighths can vary. We pick different cannabis flower strains from day to day to feature in the $25 deal. However, you can expect to see some of the best weed strains in Maine in the lineup on occasion, such as:
Is a $25 Eighth Quality Flower?
We can't speak for all the other dispensaries. But when you shop for $25 eighths in Maine at Silver Therapeutics, you can rest assured you will get quality flower for the price. A lot of customers, unfortunately, equate "deal" with weed that's not the best, nearing the end of its shelf life, or simply not that great due to poor experiences elsewhere. That's not what you will find at our dispensary. We provide some of the most desirable stains that are perfectly cured and just as terpene-rich as they should be.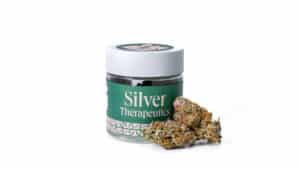 How Much Is an Eighth of Weed?
An eighth of weed is 3.5 grams or an eighth of an ounce. This is quite a bit of flower—enough to roll at least three good-sized blunts or roughly six joints. Even the heaviest smokers can usually make an eighth last them several days. But this is also a small enough quantity that you can try a few different strains without breaking the bank or buying more than you can consume. Be sure to get the full run-down on how much an eighth of weed actually is on our blog.
How We Provide $25 Eighths in Maine
Silver Therapeutics has its own grow operation in Maine. Therefore, we are in direct control over the quality and price of our in-house strains and frequently offer impressive deals on our premium flower. However, you will also find 25 dollar eighths in Maine from other growers in the state. We partner with some of the best cultivators in Maine, such as:
We secure large quantities of flower from our partners. Buying in bulk means savings for us, but also occasional savings that we can pass on to our customers. Therefore, periodically, we will have a large batch of a prized flower that we can offer at an exceptionally attractive price.
Find Your Budget-Friendly Deal on Fine Flower in ME at Silver Therapeutics
At Silver Therapeutics, we've always taken the stance that all people should have access to the best-quality weed, even if they're shopping on a budget. If you are looking for 25 dollar eighths in Maine, be sure to check out our menu or stop by any of our three locations to see what we have available. As a reminder, you can shop at Berwick, South Portland, and Portland dispensaries online and order ahead for faster pick-up when you arrive. And our cannabis delivery option in Maine is coming soon!
Copyright © 2023 Silver Therapeutics. All rights reserved.
Site by CannaPlanners