Looking for the best cannabis flower in Maine? Don't fret, you've got some incredible options. Whether you prefer flower to drop in your pipe or convenient pre-rolls in ME, there are a slew of brands happy to deliver top-quality buds. To help you track down the cream of the crop, we've rounded up the best cannabis flower brands Maine has to offer, the best pre-rolls in Maine, and even the strongest flower in the state.
Best Cannabis Flower Brands in Maine

1. Silver Therapeutics
Silver Therapeutics has begun producing its own flower in Maine, offering strains like Cotton Candy Cookies, Titty Sprinkles, and more!  What you may not know is we are now proud to have our very first Maine cultivation facility where we bring these premium flower options to life. The Silver Therapeutics cultivation facility in Brunswick supplies flower bearing our name to all three of our dispensaries in Maine, including in Portland, Berwick, and South Portland.
Shop Berwick | Shop Portland | Shop South Portland
2. Brilliant Buds
Brilliant Buds opened a small cultivation operation in Bethel at the cusp of legalization, and they've been bringing extraordinary flower to the area since. With a focus on craft flower raised by expert growers, Brilliant Buds cannabis has a stellar reputation. The flower is always clean, always cured to perfection, and always reliable. A few strains you'll catch from brilliant Buds include:
Sneaky Pete
Lemon OG Haze
Grape Sundae
3. Coastal Roots
Coastal Roots never disappoints when it comes to strain picks, flower potency, or quality. The brand has an indoor grow operation in Portland and focuses on delivering a mix of classic and unique strains. This holistically focused brand takes a grassroots approach to every product they bring to life, and those attributes truly show in the top-notch flower. A few strains to look for from Coastal Roots include:
Tiki Rum Cake
Pirate Cake
Citral Glue
4. Wilkshire Madison
Wilshire Madison is a relatively new name in cannabis in ME, but there is no doubt this up-and-comer is becoming a true favorite. With an extensive lineup of classic strains with a range of potencies, you never have to look far with this brand to find something to love. Every last mug is plucked at the peak of its perfection and packaged well to retain that freshness. A few strains to look for include:
Pure Kush
Mandarin Cookies
Wedding Cake x OG Kush
5. Yani
Yani brings forth clean craft cannabis flower that are grown right on the coast of Maine. Due to growing in the coastal soils, the flower automatically portrays this telltale richness that's hard to ignore. Plus, Yani happens to provide some of the most flower strains available from any brand. If you're eager to try Yani cannabis flower, a few top options to look for include:
Purple Cookies
Ice Cream Cake
Katsu Bubba
6. Cannabis Cured
Cannabis Cured has a strong reputation for producing flavorful, aromatic buds that are terpene rich and highly reliable in terms of effects. This brand focuses on strains that have specific therapeutic value, which means you can always find those top strains from Cannabis Cured for certain ailments. Whether you're dealing with chronic pain, stress, or tremors, there is bound to be a suitable option. A few strains to look for include:
Gorilla Glue #4
Shire
East Coast Alien Dawg
Best Cannabis Pre-Rolls in Maine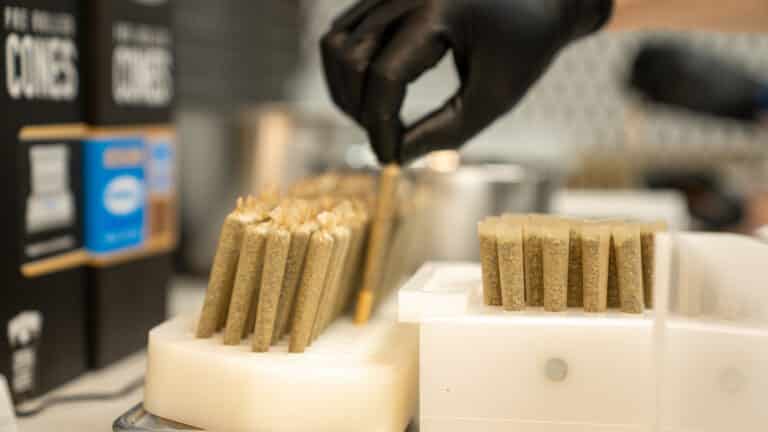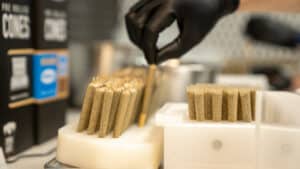 1. Silver Therapeutics Gummiez
From Silver Therapeutic's own grow, we are now happy to offer a variety of pre-rolls, including the Gummiez strain! Gummiez is a sativa-dominant hybrid weed strain made from a genetic cross between Jet Fuel Gelato and Peach Ringz. Gummiez effects include giggly, sleepy, and euphoric. Medical marijuana patients often choose Gummiez when dealing with symptoms associated with depression, pain, and stress. Gummiez features flavors like coffee, chestnut and peach. The dominant terpene of this strain is Limonene.
Shop Berwick | Shop Portland | Shop South Portland
2. High North Dark Star
There is no shortage of high THC pre-rolls Maine customers love, but less THC can be just as good. The High North Dark Star pre-roll with just 16 percent THC is an exemplary specimen when it comes to mid-range THC potency. Dark Star is one of the few strains that are pure Indica, and it truly shows in the overall effects. You get a nice mix of mildly euphoric happiness and total body relief.
3. Leune Sol Berry
Known as one of the best pre-rolls brands Maine has to offer, Leune never disappoints. If you want one of the most preferred Leune experiences, look for a Sol Berry pre-roll. With just over half a gram of premium flower, the Sol Berry pre-roll has just enough tart and just enough berry sweetness. The THC with this beauty rings in at almost 26 percent, and the effects are a totally chill-meets-happy vibe.
4. Gele Goji OG
This beauty is one of the strongest pre-rolls Maine customers have grown to love. The Goji OG pre-roll from Gele is made with a beloved Sativa-leaning strain that came from a cross between Snow Lotus and Nepali OG. This creates a dynamic flavor experience of tropical punch, cherries, and a hint of licorice. But the effects are easily what puts Goji OG in the rankings as one of the best. This strain is often referred to as the creative mind's absolute dream.
5. Yani Sour Apple
Sour Apple is a highly sought-after hybrid strain that came about after mixing Sour Diesel and Cinderella 99. The Yani Sour Apple pre-roll gives you one full gram of this pungently sweet strain to wholly enjoy. From the get-go, Sour Apple makes you feel a little chatty and a bit giddy, but that euphoric buzz fades into a total body melt and absolute relaxation soon after.
6. Sweet Dirt Royal Kush
Royal Kush has a long record of people-pleasing as a strain, and you truly can't go wrong when the Royal Kush strain is rolled up by Sweet Dirt. At just over 19 percent THC, this particular strain is not necessarily a heavy-hitter when it comes to euphoria. However, if you need a good night of sleep and deep relaxation, RK will be your best friend.
Strongest Flower Maine
When it comes to high THC flower Maine has reason to brag. With brands like Yani and Gele in the state, you'll have no problem finding some incredibly potent strains in both flower and pre-rolls. A few top contenders include:
LitreACola from Gele (32.4%)
Headbanger from Gele (29.8%)
Orange Juice from Yani (26.8%)
Mule Fuel from Stoner & Co. (25.5%)
Blue Dream from High North (25.2%)
Find Top Cannabis in ME at Silver Therapeutics
When it comes to cannabis flower in Maine and pre-rolls from the most requested brands, you can always count on Silver Therapeutics. Our dispensary menus are built by true cannabis aficionados that always listen to what customers have to say about what they want. Want to place an order for pickup? Check out our Berwick, Portland, and South Portland menus to order ahead.
Copyright © 2023 Silver Therapeutics. All rights reserved.
Site by CannaPlanners