What is the White Fire OG strain?
Sometimes referred to as WiFi OG, the White Fire OG strain is all guts and glory with its famous genetics and effects that are just as noteworthy as you would expect. With an Indica-dominant makeup, flavorful terpenes, and exceptional THC content that can hover around 22 percent or more, White Fire OG deserves all the props.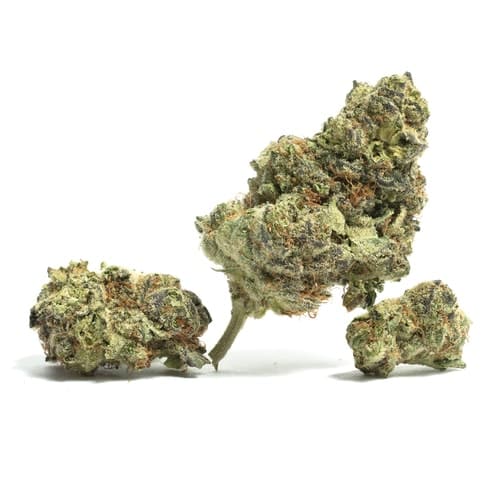 Strain type: Is White Fire OG Indica or Sativa?
The White Fire OG strain is a hybrid, but with more Indican characteristics. Most sources claim WiFi OG is about 60 percent Indica and 40 percent Sativa, which would make sense with its background that is a cross between an Indica and Hybrid. However, specifics with this strain can definitely vary depending on the source, so be sure to get a close look at the flower you purchase.
More White Fire OG strain characteristics
Genetics
One of the reasons White Fire OG is so popular is because it has two extremely popular parents: Fire OG and The White. While there is some speculation as to where the strain originated, one thing holds true, this powerhouse is now a favorite among growers and smokers alike.
Aroma
Earthy, diesel-laden, and slightly citrus, the White Fire OG strain is one to admire with your nose. This strain's buds are highly fragrant, especially when the buds are well-cured to retain the right moisture content.
Taste
The White Fire OG strain serves up an interesting palate experience with top notes of sour citrus and earthen spice, but a smoother finish with sweetness and mellow herbs. Be forewarned, some flower from White Fire OG can hit pretty heavily with pepper on the back of the throat, so you may experience a little more hit and a more pressing urge to cough than usual.
Terpenes
White Fire OG is quite the herbal smoke, but it also hints at citrus and gassy sweetness. This is a good indicator that you are experiencing a combination of myrcene—the dominant terpene in Wifi OG—as well as caryophyllene and limonene to round things out. Pinene is a less dominant terpene, but you do catch the notes in aromatics and a bit with the flavor.
Effects How will the White Fire OG strain make me feel?
White Fire OG is a fave strain among medical cannabis users because it is said to be great for things like chronic fatigue, pain, ADHD, and even depression. The heavy Indica lean means this girl is super-relaxing, but, at the same time, you get this energetic, uplifting, bubbly buzz that supports creative focus. The White Fire OG strain is a heavy-hitter, as it can contain high THC yields depending on the grower. Therefore, this is not a strain to go all-in with as an inexperienced user.
Strains like White Fire OG
Jesus OG
Tangarine Dream
Jacky White
The White
White Wedding
Where to buy White Fire OG in Massachusetts
When you are ready to get an in-person introduction to the White Fire OG strain, be sure to check with recreational dispensaries in Massachusetts. WiFi OG is notoriously finicky to grow, which means the strain is usually only produced by some of the top cultivators.
Buy White Fire OG and Other Strains at Silver Therapeutics
Looking for popular strains like White Fire OG? Be sure to take a look at our menus at Silver Therapeutics. We make an effort to stock WiFi OG and other highly sought-after strains in our dispensaries in Massachusetts. Find out more about cannabis strains on our blog.
Copyright © 2023 Silver Therapeutics. All rights reserved.
Site by CannaPlanners