The spookiest season calls for cozying up on the couch with some scary movies, yummy edibles, and a fully-packed bowl of popcorn (however you'd like to interpret that is fine with us).

Maybe we're too old for the gore and going out, but we love a campy, over-the-top jump scare every now and then. So we've compiled a list of tried and true, not-too-scary movies to watch while high! And, since we just couldn't resist, we also paired them with our favorite strains and infused snacks!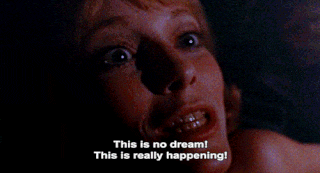 1. Rosemary's Baby  (1968)
This movie truly has something for everyone. Enjoy the visuals or get super invested in the mildly horrifying and darkly comic plot. This classic stars Mia Farrow as a young mother-to-be who grows suspicious that her neighbors and husband are all conspiring with Satan against her and her baby (Sounds like a bad trip… am I right?). Rosemary's Baby does an excellent job leaving the horrors unseen and up to the viewer's imagination so we recommend taking a hit of a mild Indica like Farmer Fire and enjoying the ride. 
If you're an anxious snacker, stock up on some sweets like Bubby's Baked Goods Snickerdoodle Bites or Buzzy Rootbeer Soda.


2. Little Shop of Horrors (1986)

Leave growing plants to us and you just stick to smoking them 😉  Steve Martin! Music!  A man-eating plant with some serious munchies! What's not to love? Whether you're singing along or wondering how many puppeteers are controlling that massive plant, this strange, feel-good horror comedy is a must watch for stoners during the Halloween season. 

We recommend taking a hit or two or three of Gas Pump for this upbeat sing-a-long. Gas Pump is a gassy, citrusy strain  that  launches you to euphoria's top floor. For an even better high, crack open a can of WYNK or snack on some Root & Bloom Sour Joybombs!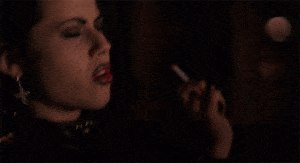 3. The Craft (1996)
The Craft is the perfect flick for lovers of the occult and a great way to ease into the Halloween spirit. The subliminal messages in this film are pretty obvious, but we think being stoned helps. Pack the bong and invite over some friends! This movie pairs nicely with an uplifting sativa like Cotton Candy Cookies. Sit back and enjoy the fantasy, fashion, and badass babes. The scariest thing about it is the '90s graphics and *shudders* high school flashbacks.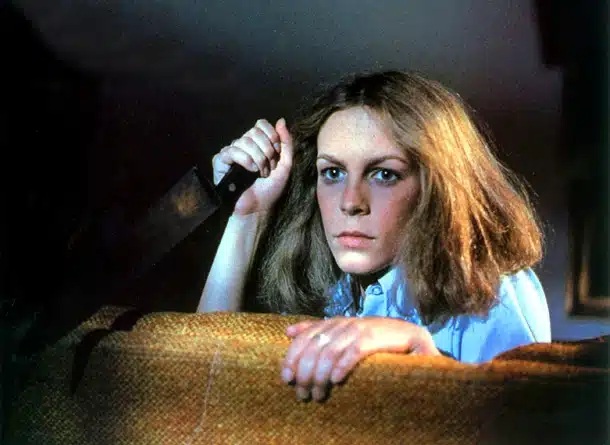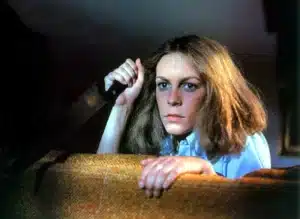 5. Halloween (1978)
If you grew up in the '80s or '90s, Halloween was most likely playing on your television while the trick-or-treaters arrived and you got ready to go out. This John Carpenter classic is the epitome of modern horror. It's the iconic movie that gave us the knife-wielding silent-killer, Michael Myers, and Jamie Lee Curtis as a young babysitter who comes face-to-face with him on Halloween night… and 15 years after murdering his sister on the same night, Michael is ready to kill again.
This slasher film is terrifying, timeless, and just campy enough to make our list!
The protagonists openly smoking weed will give you the green light to light one up and have some fun. Take the edge off with a hit of our Rebel Cookies strain. This cross between Double OG Sour and Starfighter will quickly ease your mind and help you sink into your couch and doze off without any nightmares.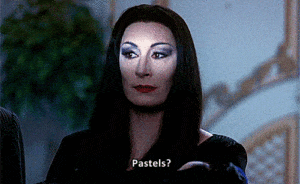 6. Addams Family Values (1993)
It's time to embrace your inner goth. This sequel to the beloved 1991 film is a timeless classic. Highlights include gore-loving Wednesday and Pugsley Addams's adventures at summer camp and  Joan Cusack casted as Uncle Fester's bride-to-be. It's cheesy, it's creepy, its kooky.  It's everything.

7. The Shining  (1980)
Is it Halloween in New England if Steven King's classic doesn't make the list?  Stanley Kubrick's adaption of the novel uses visuals to create an unsettling and claustrophobic atmosphere that's even more visually captivating while high. We recommend hitting  one of our vape cartridges or disposables. Don't get too lost in the plot, and focus on the cinematography instead.

The Shining is a film that will send you down a rabbit hole of conspiracies, paranoia, and confusion so naturally, this is one of the most popular and beloved horror movies to get high while watching!

8. Hocus Pocus (1993)
With it's hokey one-liners and amusing spells, Hocus Pocus is perfect for some harmless  Halloween fun.  The film begins in 1600s Salem, Massachusetts, where three mischievous sisters were hanged for soul sucking. It then transports you to the trios return for vengeance 300 years later. These witches get into some serious shenanigans which are made even more amusing if you've got some low-dose goodies to snack on like Tir Na Nog Gummy Clusters or Glaze Space Lace.
This movie is based in Salem, Massachusetts and filmed in Pioneer Village, so if you'd like to step into the past yourself, it's a pretty easy trip! And, depending on where you're traveling from, you could even stop by a Silver Therapeutics dispensary along the way!


9. Ghostbusters (1984)
Who you gonna call? This iconic comedy film is a must-watch during spooky season. Its dated special effects, '80s music, gags, and puns make it a solid movie to watch while stoned. Friends banding together to combat the paranormal activity plaguing New York City. What's not to love? Ghostbusters is a classic and still incredibly funny after all these years.


10. Shaun of the Dead (2004)

Arguably, smoking weed before watching this one should be a requirement.  Shaun of the Dead is a British horror-comedy that follows Shaun , an ordinary salesman, and his best friend, Ed, whose lives quickly spiral into zombie-infested madness. This duo's adventures battling zombies and saving their friends from danger are full of campy jump scares and feel-good humor that follow the formula for a perfect Halloween movie.
Pass around a bowl packed to the brim with Cotton Candy Cookies and keep the party going!
Copyright © 2023 Silver Therapeutics. All rights reserved.
Site by CannaPlanners