While both Democrats and Republicans had their reasons to celebrate on election night, the one clear winner was cannabis. Voters in Michigan went to the polls and became the first state in the Midwest to legalize recreational cannabis with the initiative passing with 56 percent of the vote. Traditionally deep red states of Missouri and Utah legalized medical marijuana use in the state. Pro-legalization governors won in Illinois, Minnesota, Michigan, New Mexico, New York and Wisconsin with Illinois Democratic Governor-elect J.B. Pritzker saying, "Let's legalize, tax and regulate marijuana," in his victory speech after making cannabis legalization a center piece of his campaign.
Another win for cannabis came in the federal elections with Rep. Pete Sessions, R-Texas, being beat by Democrat Colin Allred. During his time as the chairman of the House Rules Committee, Session has systematically blocked virtually every single proposed cannabis amendment from reaching a floor vote, including provisions that would have increased veterans' access to medical marijuana, protecting state cannabis laws from federal interference and allowing cannabis companies to access banking services. Curiosity of Marijuana Moment, a full list can be viewed here. There are still roadblocks for cannabis reform at the federal level. The Senate is still controlled by Republicans and led by Sen. Mitch McConnell, R-Kentucky, who does not support cannabis reform, although he is an advocate for legalizing hemp which would be a benefit to his home state. President Trump signaled his support for a pending bill that would support states' rights as they implement their own marijuana laws. The bill, the Strengthening the Tenth Amendment Entrusting States (STATES) Act, would amend the federal Controlled Substances Act to exempt state-legal marijuana activity from its provisions.
An ongoing poll by Gallup shows that two out of every three Americans (66 percent) support legalizing cannabis. The graph below shows data from the last 50 years they have been conducting the poll.
Given these big wins on election night and the majority of Americans supporting legalization, look to cannabis to be a main policy topic during the 2020 presidential campaigns and beyond.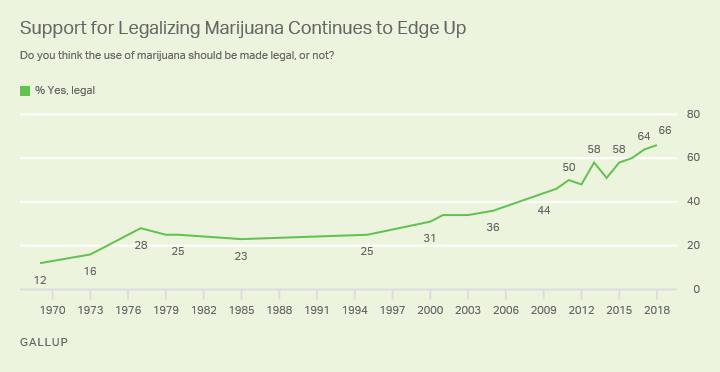 Copyright © 2023 Silver Therapeutics. All rights reserved.
Site by CannaPlanners