Erected along the southern coast of Maine, Portland has long been recognized as one of the most fascinating places in the state. Portland, ME has a rich history that reaches all the way back to 1623 when an English captain decided he wanted to settle in Casco Bay.
Today, Portland is bubbling with interesting people—artists, beach lovers, poets, fishermen, and foodies. People flock to Portland for all kinds of reasons, and there is never a shortage of things to do in Portland Maine. Check out a few things to do in Portland ME if you're planning a trip to the area.
SHOP THE TOP CANNABIS IN PORTLAND, ME
The Best Things to Do in Portland ME
1. Go on a kayaking tour of Casco Bay
Casco Bay Kayak hosts a number of private group tours in the area, including a tour that takes you throughout Casco Bay. You can either bring your own kayak or use one of the tandems or singles provided. Your guide will take you and a group of others along the Harpswell coastline, where there is no end to beautiful scenery and islands to explore. All kayaking tours have limited spots available, and this can be a fun adventure to go on with a group of friends. So be sure to book your trip early.
2. Check out the local lighthouses
If you're looking for things to do in Portland Maine this weekend, there's no better time to set out in search of the local lighthouses. Maine is known for having some of the most scenic lighthouse locations, about six of which are easily accessible from Portland within about a 20-minute drive. The Portland Head Light, the Spring Point Ledge Light, and the Bug Light are just a few lighthouses you can visit in the area.
3. Enjoy food, shopping, and souvenirs in Old Port
With the charm of cobblestone streets paired with salty air and a laid-back atmosphere, Old Port is always a favorite destination. Old Port is a historic district that runs along the waterfront. Not only is the area like taking a step back in time, this seaside location is sprinkled with tons of restaurants, shops, boutiques, souvenir shops, and our dispensary!
You could easily spend all day exploring. From stopping at pubs like Gritty McDuff's Brew Pub and The Thirsty Pig to visiting some of the quirky shops like Something's Fishy and Cool as a Moose. One of our favorite restaurants in the area and a definite recommendation is Cheese Louise, where they donate $5 from every special sold to support organizations that make Portland a better place to work, live, and visit.
Don't Forget To Visit Silver Therapeutics While You're in Old Port!
Our Portland Maine dispensary is located at 370 Fore St, Portland, ME 04101 right in Old Port – stop in and say hi!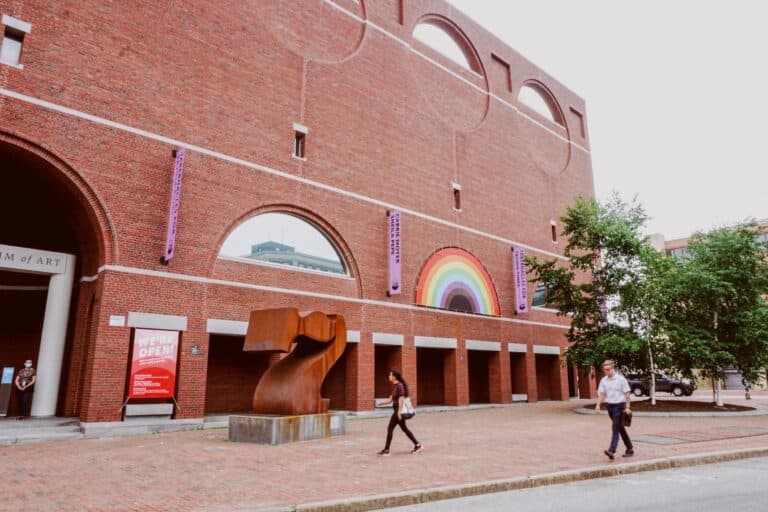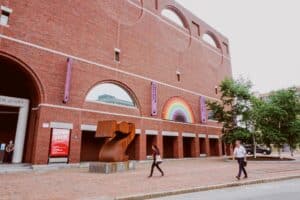 4. Spend the day at the Portland Museum of Art
The Portland Museum of Art is always a good place to visit on a rainy day. You could spend a few hours taking in all the exhibits and exploring over 18,000 works of art from everyone from Monet to Warhol. Something good to note, every Friday through the summer, the museum provides free admission between 4 pm and 8 pm. The PMA has a rotating collection of exhibits, frequently hosts local artists, and often has special events scheduled for entertainment or education.
5. Visit the Eastern Promenade and East End Beach
If you're looking for what to do in Portland Maine that doesn't cost anything but fuel to get where you need to be, consider heading to the Eastern Promenade. The Eastern Promenade is a simple two-mile stretch of outdoor space that welcomes picnickers and those just looking to unwind with a good view. If you're visiting in the summer, East End Beach is nearby. This is a favorite beach among the locals and a good place for catching rays, taking a swim, or building a sandcastle on the shore.
6. Grab coffee and breakfast to go at Tandem Bakery
If you get to town a bit early (our Portland dispensary opens at 10 AM daily), head over to Tandem Bakery. Their coffee is nothing short of amazing, and their breakfast sandwiches are out of this world. After you've nabbed your day-starter, take a stroll around the West End and Western Promenade.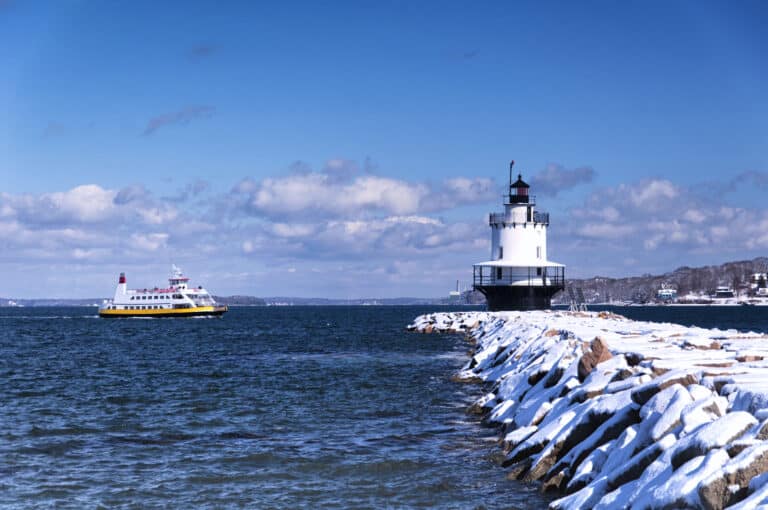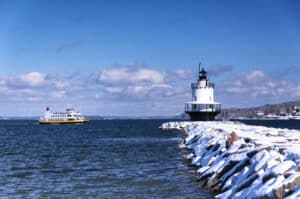 7. Go island exploring on the Casco Bay Ferry
Portland is basically a peninsula surrounded by islands, such as Peaks Island, Cushing Island, and Great Diamond. If you feel up for a little island exploration, catch the Casco Bay Ferry for a ride to the island of your choice. The iconic ferry services all the islands in Casco Bay and runs pretty much 365 days a year.
8. Plan an adventure to Mackworth Island
Speaking of islands, Mackworth Island in Falmouth is right outside Portland. This particular island offers snap-worthy views of Casco Bay from every angle. A 1.25-mile trail takes you completely around the perimeter of the island. And, you're bound to enjoy the natural forested landscape.
9. Enjoy the best croissants ever at Belleville
After your scenic hike, you're bound to be ready for a snack. Belleville at the top of Munjoy Hill on North Street is the perfect place to stop. You'll walk away with the most satisfying croissant your mouth has ever encountered. Head a little further up the hill and catch a water view along the Eastern Prom, or stick around the area and visit the Portland Observatory.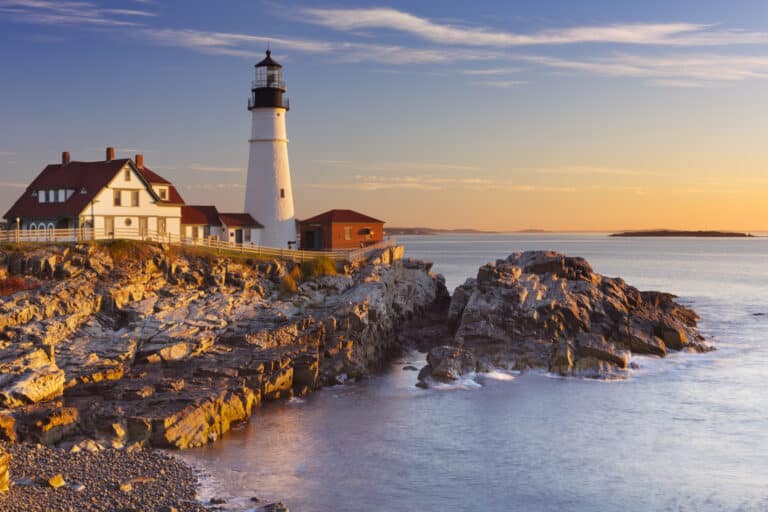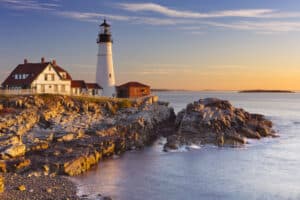 10. Take a drive to Portland Head Light
The Portland Head Light—the MOST photographed lighthouse in the country—sits just a few miles south of downtown Portland. And, the lighthouse is positioned adjacent to Fort Williams Park. So, you could kill several hours exploring the shoreline and the sights within the park, such as Battery Keyes or Goddard Mansion.
11. Explore the Portland Arts District
The Portland Arts District is a collection of art galleries, colleges, museums, and performance theaters mingled together in just a few city blocks. You can literally take off on foot on Alberta Street and see everything from paint-your-own pottery shops and grilled cheese grills to streetside sculptures. Even better, many of the city buildings are decked out with the handiwork of local artists.
12. Find fascinating weirdness and ice-skating at Thompson's Point
Thompson's Point is a little peninsula in Portland surrounded by the Fore River. If you make your way off the well-trodden Portland city streets to the area, be sure to make your way over to the International Cryptozoology Museum for some absolute weirdness like rare Big Foot evidence, a fiberglass coelacanth, and more. If you make it to the point in the winter, visit The Rink at Thompson's Point for outdoor ice skating.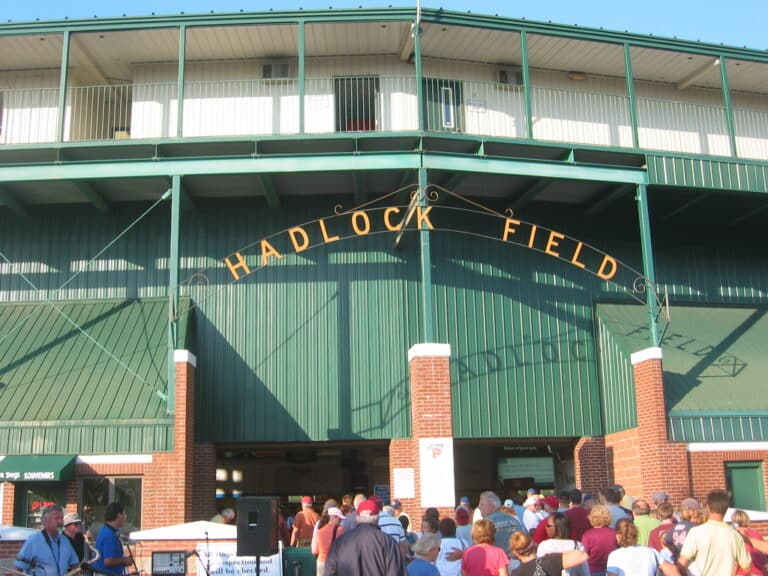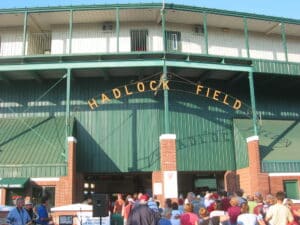 13. Visit Hadlock Field for a Sea Dogs game
Hadlock Field is modeled after Fenway Park, but it has been named as a unique field to visit when it comes to Minor League Baseball because of its interesting outfield. If you're traveling through Portland during baseball season, you may get the chance to catch a Sea Dogs game. Be sure to keep an eye out for the rising lighthouse near the centerfield fence when the Dogs win or hit a home run.
14. Go lobstering and let the pros cook up your catch
Love you some lobster? Ever wanted to know what it's like to catch one? Experience the full lobstering process by booking a tour with Lucky Catch Cruises. You'll get to go out with a crew on Casco Bay, pull up traps, and learn all about the beloved hard shells. You get to purchase lobsters at the discounted boat rate. Then, you can trek across the pier when the cruise docks and head to the Portland Lobster Company for a totally fresh meal and some live music.
15. Catch a show at the vintage Merrill Auditorium
The Merrill Auditorium happens to be just down the street from Silver Therapeutics. This turn-of-the-century auditorium houses a ginormous pipe organ and the entire place has this incredibly vintage appeal. Be sure to check out the events taking place while you're in the area and grab tickets in advance. The Auditorium hosts everything from comedy shows and ballets to digital concerts and symphonies.
18. Tour the many local breweries
Portland is kind of a hot spot for craft beer—the area is actually filled with some of the most diversified and vibrant breweries in the country. If you're all about crafted IPAs, aged ales, and stouts, take a tour of some local breweries. A few top stops would be Austin Street Brewery and the Banded Brewing Company. However, you can also book a full-on brewer tour of the Greater Portland area through Maine Brews Cruise. For example, the Beerunch Tour starts in the morning and takes you to three top breweries in the area.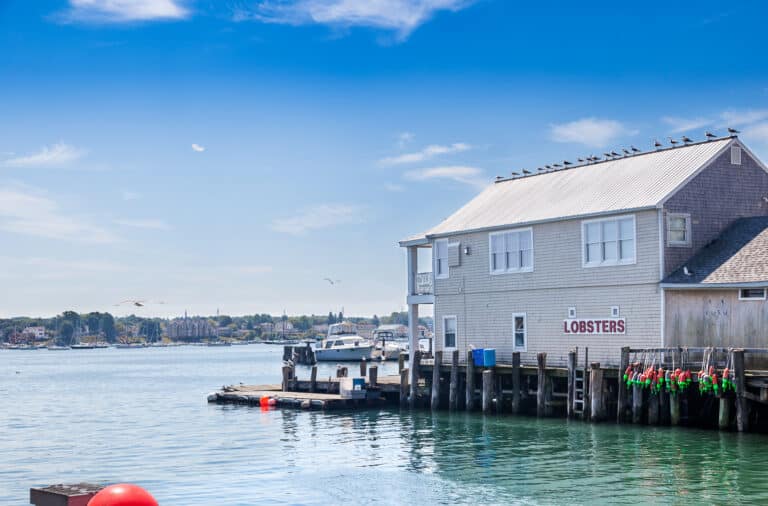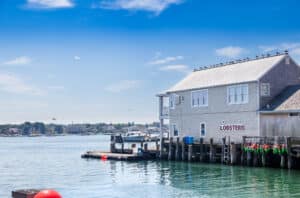 SHOP THE TOP CANNABIS IN PORTLAND, ME
Check Out the Top Local Restaurants in Portland
If you're all about good food, your time spent in Portland will be memorable. Downtown Portland is nationally known for its food fare. We have to recommend the Two Heads Lobster Shack, which happens to be right on the rocky shores of the area. This place has been around for a century, and it's easy to see why. The food is delicious. But, even more cool, you get to enjoy your meal in view of a lighthouse, within earshot of the fog horn, and perched just over the water.
A few other great places to grab grub in the area:
Izakaya Minato

Japanese-style gastropub

Bao Bao Dumpling House

with tons of locally sourced menu options

Wayside Tavern

American cuisine and a cozy, historic interior

Eventide Oyster Co.

where lobster rolls and exceptionally fresh oysters are plentiful

The Shop – Patio seating with oysters, tinned fish, and drinks
The Highroller Lobster Co. – Lobster rolls, whoopee pies, and local beer
Terlingua – Indoor/outdoor dining, BBQ, and Latin-American cuisine
Crispy Gai – Thai-inspired foods with a Maine flair
Ramona's Sandwiches – Hoagies, breakfast sandwiches, and sides
Friends & Family – Wine, cheese, Charcuterie
Looking for Cannabis in Portland, ME?
Wherever you go while you're touring Portland, cannabis may be just the thing to enhance your journey. If you're looking for a good dispensary in Portland, ME, stop in and visit us at Silver Therapeutics. Our menu is chock-full of the best cannabis in the state, right down to hard-to-find strains you won't see anywhere else and top-shelf concentrates, edibles, and more.
Copyright © 2023 Silver Therapeutics. All rights reserved.
Site by CannaPlanners